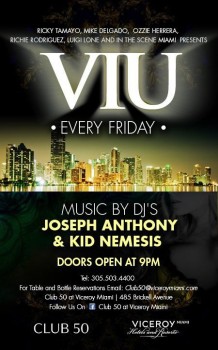 Club 50 at the Viceroy Hotel In Brickell. Free Admission on Ricks List
7-1-11, 10:00PM
Club 50 at the Viceroy
485 Brickell Ave., Miami, FL 33131
hmc2575@gmail.com
Come and and be swept away by what everyone in Miami is ecstatic and thrilled about… The Breathtaking 50 story high view of Brickell and Downtown Miami… An event for the truly sophisticated, sexy and discriminating urbanite, I Present to you Ladies and Gentlemen… Club 50 at The Viceroy Hotel In Brickell.
Music Orchestrated by Joseph Anthony and Kid Nemesis
Doors open at 9PM. Click on "Attending" to be added to the My Guest List for Complimentary admission until 12AM
Very Strict Door Policy! Dress Code Strictly Enforced!! No sneakers, oversized jeans, baseball caps, excessive jewlery, gold teeth. Only the properly dressed will be admitted as this Venue is geared to satisfy the Best of the Best!
Contact Me for Bottle Service Reservations. 305 300 0827