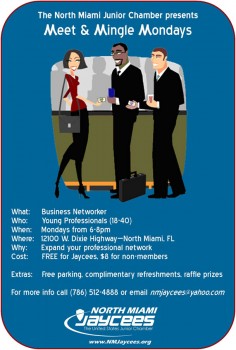 North Miami Junior Chamber of Commerce Business Networker
6/20/2011, 6:00 pm
North Miami Jaycee Hall
12100 West Dixie Highway
North Miami, FL 33161
www.nmjaycess.org
Expand your contacts and come network with a dynamic group of young professionals (18-40), Every Monday after work, 6:00pm – 8:00pm, at the North Miami Jaycee Hall. Free parking, complimentary refreshments, raffle prizes. Bring plenty of business cards.