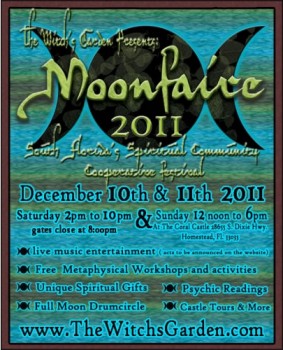 Moonfaire South Florida's Spiritual Comunity Cooperative Festival
December 10th -11th, Sat 2-10pm Sun Noon-6pm
The Coral Castle
28655 South Dixie Highway
Homestead,fl 33033
Website.
Hear ye! Hear ye, Moonfaire is coming! What is it you ask? Well it is a two day community event at The Coral Castle in Homestead, fl. hosted by The Witch's Garden since December of 2006. Who is The Witch's Garden, well they are a local mom and pop pagan business owned by Marizel & Armando Almirall that started off at the castle on May of 2004 and now own a brick and mortar shop in Hialeah. Now about Moonfaire, we started this because we realized throughout the years that local spiritual artists and mystical businesses didn't really have an event spotlighting them and their talents so we created this as a place where you can setup an inexpensive booth and get your name out there while getting to know the community. We also realized that among the various spiritualities there has always been too much separation because of what you practice, how many years of experience you have, credentials, and group associations. It always seemed to us that the community needed a place where all can come as one and celebrate earth, life and spirituality.
In these events the community gets involved and workshops take place throughout the day on various metaphysical topics hosted by individuals and groups alike. We also create a beautiful village where you can find lightworkers, psychics, massage therapists and local artistry as well as vendors featuring occult supplies, Indian clothing, natural bath and body products, handcrafted jewelry and more. The Moonfaire is definitely something to experience and even though we don't host a public ritual we are however having a main drumcircle at 9pm under the beautiful December full "Cold Moon" which is a very sacred way to connect to one another, the energies of the castle and the elements surrounding us. The vision of the event is for it to continue to flourish and the only way this will succeed is with you.
What can you contribute you ask, well get involved. We need volunteers to help throughout the event, groups and community leaders to host workshops, happy faces passing out flyers and most of all help in getting the word out. We can also always use sponsors, vendors and donations since this is what pays for the production itself. Honestly anything anyone can contribute even if it is giving a flyer to a friend makes a difference we just want as many people as possible involved so we can create a community that brings forth all races, religions, age groups, denominations and so forth to drum, dance tour the castle and enjoy a day of family, spirituality and being all as one.