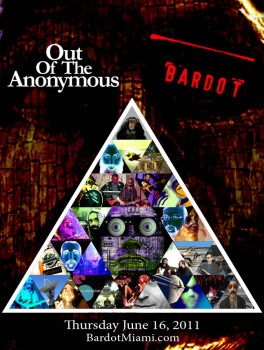 Out Of The Anonymous @ Bardot 6/16/11
Thursday June 16th, 10PM-1AM
Bardot
3456 North Miami Avenue
Miami, FL 33127-3534
(305) 576-5570
outoftheanonymous.com
A "mood enhancing" show at Bardot.
June 16th will see Out Of The Anonymous putting on a different type of show at Bardot.
The bands psych-rock instrumentals are known to put people in a groovy trance with just three musicians.
Imagine sounds like Boards of Canada jamming with Can and Pink Floyd.
They will be performing a more mood enhancing, multi-media, multi sensory set
featuring performance artists Belaxis Buil, Jasmine Kastel and others, as well as visual artist Marlene Lopez.