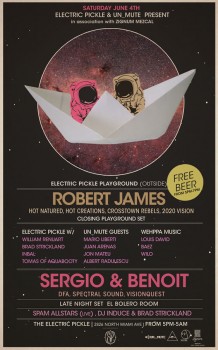 Summer Sessions At Electric Pickle
Saturday, June 4th, 5 p.m. to 5 a.m.
Electric Pickle
Wynwood Arts District
2826 North Miami Avenue
Miami, FL 33127
www.electricpicklemiami.com
www.zignummezcal.com
Saturday, June 4th Wynwood's Electric Pickle is hosting a 12-hour party (5 p.m. to 5 a.m.) featuring live acts such as electronic pop duo Benoit & Sergio, DJ Robert James and late night fun in the "Bolero Room" with the Spam Allstars, DJ Induce and Brad Strickland. Guests will enjoy complimentary beer from 5 p.m. to 7 p.m. and Zignum Mezcal signature cocktail specials all night. In addition, the club's outdoor "playground" will boast an oversized Zignum Mezcal cabana complete with a photo booth, giveaways, plush couches and gratis mezcal shots throughout the evening.
$10 advanced tickets are available through Saturday (noon) at Wantickets.com.