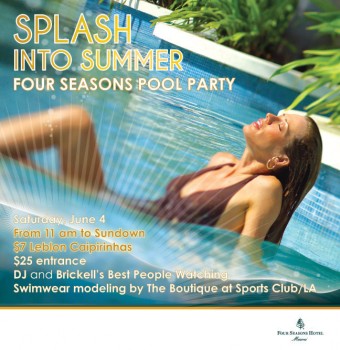 Four Seasons Hotel Miami Summer Pool Party
Saturdays, starting June 4, 2011, 11am – sundown
Four Seasons Hotel Miami
1435 Brickell Avenue
7th Floor
Miami, FL 33131
www.fourseasons.com/miami
Dip Into Summer: Four Seasons Miami Pool Party Returns
Pool parties are a summer staple, but few come with Four Seasons service and style. Starting June 4, 2011, the Hotel will host the city's most sophisticated Saturday poolside extravaganzas featuring eclectic, high energy music and signature amenities such as Evian spritzes, cool towels and butler-passed frozen treats.
This season, the Hotel will debut a caipirinha cart, a very grown up version of the ice-cream cart, dispensing $7 Leblon caipirinhas made to order chaise-side. In addition, The Boutique at Sports Club/LA will host poolside modeling of swimwear by bikini flavors. Entrance is available with a Saturday $25 pool pass. Cabana packages are available at $150 and include use of a cabana by 4 people, mineral water, fruit platter and one cocktail per person. Reservations are recommended as space is limited. For reservations, call 305-381-3037on weekdays or 305-381-3190 on weekends.
A destination in its own right, the 2-acre pool terrace at Four Seasons Miami has been described by The New York Times as "a grown-up alternative to the more raucous South Beach scene across the bay." In addition to a main pool and whirlpool surrounded by cabanas, the terrace features the Palm Grove wading pool
Already a staple of the Brickell summer and popular with the young crowd of members at The Sports Club/La, the pool parties are a perfect way to spend a Saturday afternoon in style. In addition, to Brazilian libations, guests will enjoy a menu of signature small bites and cocktails served throughout the day.