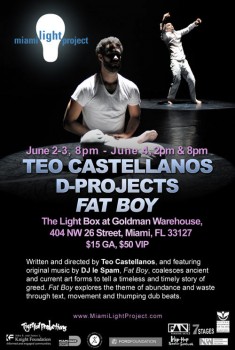 June 2nd & 3rd @ 8pm
June 4th 2pm & 8pm
The Lights Box at Goldman Warehouse
404 NW 26th street
Miami, FL 33127
DJ Le Spam is honored to have developed the music for Teo Catellanos D-Projects FAT BOY. Presented as part of Miami Light Project's 2011 Contemporary Performance Series, FAT BOY coalesces ancient and current art forms to tell a timeless and timely story of greed. Fat Boy explores the theme and abundance of waste through text, movement and thumping dub beats.
The music was composed and recorded by DJ Le Spam at City Of Progress Studios, and features several Miami musicians including Chad Bernstein, Tomas Diaz, Zach Morillo, Hunter HP Parmentier and Rudy Goblen.
Miami Light Project
Teo Castellanos D-Projects
City of Progress
Youtube Promo Video.