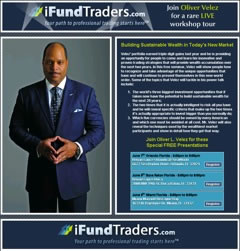 Oliver Velez's Free PowerTalk "Building Sustainable Wealth in Today's New Market"
06/09/2011, 06:30pm – 08:30pm
Miami Marriott Biscayne Bay
1633 N. Bayshore Drive
Miami, FL 33132
ifundtradersevents.com
Renowned Master Trader, Educator and International Best Selling Author, Oliver Velez will host a one day landmark power talk on "Building Sustainable Wealth in Today's New Market." The free two hour seminar will take place in Orlando (June 7), Boca (June 8th) and Miami (June 9th) from 6:30-8:30pm. Velez' portfolio earned triple digit gains last year and he is providing an opportunity for people to come and learn his innovative and proven trading strategies that will provide wealth accumulation over the next two year. His traders are some of the best in the world and now the general public will have an opportunity to be taught and coached by Velez personally. His highly effective approach has made him one of the most sought out speakers in the country and has provided his wealth traders with triple digit returns in each of the past two years.
The seminars are free to the public but attendees must register at http://ifundtradersevents.com/ or call 866-877-6124.
Some of the topics that Velez will tackle in his power talk include: 1) the world's three biggest investment opportunities that if taken now have the potential to build sustainable wealth for the next 20 years; 2) the two times that it is actually intelligent to risk all you have and he will reveal specific criteria that make up the two times it's actually appropriate to invest bigger than you normally do; 3) which five currencies should be owned by every American and which one must be avoided at all cost. Mr. Velez will also reveal the techniques used by the wealthiest market participants and show in detail how they got that way.