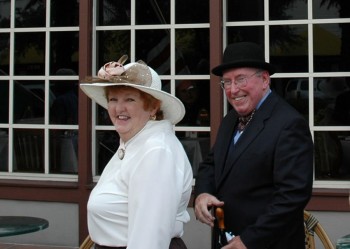 ReJoyce. Miami Celebrates the 107th Anniversary of Bloomsday.
Wednesday, June 16, 6 p.m.
The Coral Gables Museum
285 Aragon Avenue
Coral Gables
For millions of people June 16 is an extraordinary day. On that day, 107 years ago in 1904, two residents of Dublin, Ireland, Stephen Dedalus and Leopold Bloom, embarked on their epic converging journeys through the city. Their travels and adventures, both real and imagined, were memorialized in James Joyce's masterpiece, Ulysses, the world's most highly acclaimed modern novel. "Bloomsday," named after Leopold Bloom himself, has become a tradition for Joyce enthusiasts all over the world from Tokyo to Sidney, San Francisco to Buffalo, Trieste to Paris, Sarasota to Miami. Dozens of cities around the globe hold their own Bloomsday festivities
Miami-Dade County will join these cities in observing the Bloomsday 107th Anniversary Celebration with a great event in Coral Gables on Wednesday, June 16. The Celebration will begin at 6 p.m. in The Coral Gables Museum, 285 Aragon Avenue, Coral Gables where we will be treated to dramatic readings of excerpts from Ulysses by actors from the Actors' Playhouse. The famous soliloquy of Molly Bloom will be included. The soliloquy is the part of the book that resulted in Ulysses being banned in Boston.
The audience is encouraged to come in costume, reminiscent of the 1900 to 1920 era. Bowler hats, waistcoats, stiff collared shirts, dressy hats, flapper dresses and frocks are all welcome. If you do not want to dress up, come anyway. After the readings, there will be a short odyssey with flags, led by a kilted bagpiper around the block to John Martin's Restaurant where we shall celebrate in earnest. A special Bloomsday menu and special prices will be offered.
The St. Patrick's Day Committee, the Coral Gables Museum, the City of Coral Gables, Actors' Playhouse and John Martin's Restaurant and Irish Pub are sponsors. The project is presented with the support of the City of Coral Gables, the Miami-Dade County Department of Cultural Affairs, the Cultural Affairs Council, the Mayor and the Miami-Dade Board of County Commissioners.
The Bloomsday 107th Anniversary Celebration is open to the public and all events are free. Ample parking is available on Miracle Mile and in the city garage across the street from the Coral Gables Museum. For more information call Oliver or Mary Ann Kerr at 305-251-6208.
Mary Ann Kerr and Ollie Kerr, playing Molly and Leopold Bloom.