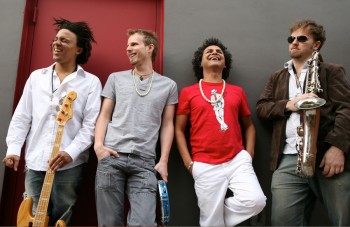 Jazz @ New Theatre Concert Series Presents Batuke Samba Funk
Wednesday, May 25, at 7:30 PM
New Theatre
4120 Laguna Street
Coral Gables
Tickets are $20 and are available for purchase online at www.new-theatre.org or at the New Theatre box office. For further information, call the New Theatre box office at 305.443.5909.
Batuke Samba Funk, Miami's hottest Brazilian band, brings their special blend of samba, funk, and jazz to Coral Gables' New Theatre as part of the "Jazz @ New Theatre" concert series.
Created by visionary Dr. Jules Oaklander, founder of the monthly "Jazz at MOCA" series, this new program brings Dr. Oaklander's same community-oriented philosophy as the now 15 year-old and highly successful MOCA Jazz program, looking to expand the audience for quality jazz throughout the Miami area and keeping local musicians in the public eye.
Batuke is the act of drumming on any surface or with any object, that makes a sound. Recycled cans, plastic buckets and pieces of scrap metal have all been transformed into percussive instruments that enhance the musical atmosphere of this group established by bassist Diogo Oliveira in 2008. Batuke Samba Funk, comprised of four Miami-based musicians, offers a fusion of Brazilian rhythms including samba and samba rock with classic American funk. While the core group consists of bass, drums, keyboard and voice, the ensemble is joined by trombone, female vocals and Brazilian percussion when performing with their full seven-piece configuration. The program is produced by KCC Productions of Miami Beach.
New Theatre is a multi-cultural theatre producing a season of Nouveau Classic works, blending classics and new works, which speak to and about a diverse contemporary audience by stimulating, provoking, challenging, and entertaining since 1986. Entering their 25th Anniversary Season, the theatre has flourished under the energetic Artistic Direction of Ricky J. Martinez and Managing Director, Eileen Suarez, refining its focus on works which speak of social/religious/humanistic interests, relevant issues of discrimination based on race, gender and sexual orientation, the immigrant's plight, the role of youth in our community, and for stories from the heart and for the soul which celebrate the mosaic that makes up the South Florida community, in addition to classics by Shakespeare, Tennessee Williams, and others.