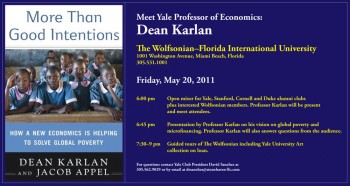 Friday, May 20, 2011
The Wolfsonian-FIU and the Yale Club Present More than Good
Intentions: How a New Economics is Helping to Solve Global Poverty–Friday, May 20
Meet Yale Professor of Economics Dean Karlan at The Wolfsonian–FIU
6pm: Open mixer for Yale, Stanford, Cornell and Duke alumni clubs plus interested Wolfsonian members. Professor Karlan will be present and meet attendees.
6:45pm: Presentation by Professor Karlan on his vision on global poverty and microfinancing. Professor Karlan will also answer questions from the audience.
7:30-9pm: Guided tours of The Wolfsonian including Yale University Art collection on loan.
For questions, contact Yale Club President David Sanchez at 305.562.9029 or by email at drsanchez@stonehaven-llc.com