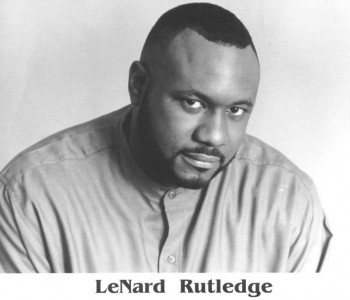 KCC Productions and the Miami Jazz Society present baritone LeNard Rutledge at Skylounge
May 11 at 7 PM
Skylounge
100 SE 2nd Street
Miami
The Downtown Jazz Series, now in its fourth year, is free. Parking is available in the building for a $10 event rate, and the free Metro Mover's Knight Center stop is in the building. Food and beverage are available in the Sky Lounge. For more information call 305-539-7084.
Captivating, soul stirring, earthy and funky. These are just some of the words used to describe the song stylings of LeNard Rutledge. Growing up in Miami, Florida, LeNard was always surrounded by many different musical styles. His parents had an extensive music collection ranging from Classical, Jazz, Hymns and the funk of James Brown.
In the fall of 1984, LeNard went to St. Augustine's College in Raleigh, NC. LeNard was awarded a Band Scholarship by Dr. Harold Jeffries (Director of Bands). It was in Raleigh when LeNard's musical journey took flight. In the fall of 1984, he recorded two jingles for WLLE, a local AM radio station. He played drums, co-wrote and sang background vocals. He played timpani and general percussion in the Concert band and was the back–up drummer for the Jazz Ensemble. After a year of hinting and periodic begging, LeNard got his first big break. In the fall of 1986, LeNard sang the ballad "Teach Me Tonight" at the Annual Spring Concert. His confidence grew as he sang more songs, which led to other projects such as studio work and voice-over jobs. For fear of letting his drumming chops falter, LeNard played at area clubs to keep the rust away. A musical friend (Rick Best) introduced him to song writing.
In 1992, Stanley Baird, an area saxophonist, asked LeNard to submit songs for his upcoming CD, Stop, Look & Listen. Stan recorded three of his songs and released them on his label, Saxony Records. In 1995, LeNard submitted two of those songs to the Billboard Songwriting Contest. One of the songs, "So In Love (with you)" placed in the top 1% of 50,000 R&B entries. In the fall of 1995, he returned for a while to Miami. Needing extra cash to return to school, a childhood friend, Alan Morley told him he could earn extra money producing Rap and Hip-Hop Music. He introduced him to Gary Bradshaw (a Miami Rapper). From October 1995 to January 1996, LeNard "ghost wrote" and produced 9 original tracks for Gary. After returning to school in January of 1996, LeNard made the Dean's List and Graduated in May 1997 with a B.S. Degree in Industrial Hygiene and Safety.
In May 1997, LeNard moved back to Miami. In October 1997, LeNard auditioned as a vocalist for the Melton Mustafa Orchestra. He got the gig and was the featured vocalist until 2003. LeNard has been a featured vocalist at area jazz spots in South Florida. The Museum of Contemporary Art, the Van Dyke Café and O'Hara's Jazz Pub are the most notable. LeNard has shared the stage with a number of highly respectable jazz artists such as: Nnenna Freelon, Dee Dee Bridgewater, Kenny Drew Jr., and Harry Allen. In May of 2006, LeNard was named BEST JAZZ ARTIST, by the Miami New Times magazine. His first CD, Hello World, was released in November.