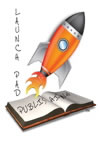 "Be a Published Author(ity) NOW!" 2-part teleclass
Part 1 – May 5th / Part 2 – May 10th, 7 p.m. – 8 p.m.
phone or skype
www.WriteYourBestSellerNow.com/callinfo.htm
Got a Book in Your Head??
Join Us For this 2-Part Teleclass Series!
"Be a Published Author(ity) NOW!"
Book-writing coach, author, editor, publisher Faye Levow and 15-year veteran social media expert Mandy Wildman Porter
Get that annual resolution to get your book written, handled NOW!
Tired of being bombarded with marketing strategies left and right?
Want to know how to ensure your authority and marketability in the business world?
Find out what being a Published Author can do for YOUR business!
May 5: Be an Author –Essential Keys to Getting Your Book Written and Becoming a Published Author
15-year veteran social media expert, Mandy Wildman Porter will interview Faye Levow, book-writing coach, editor, author, publisher.
May 10: Be an Authority, The Hottest Tips on Social Media Marketing for Authors
Faye Levow will host social media expert, Mandy Wildman Porter
*Learn how to get your book done painlessly and in less time than you imagined.
*Discover that you CAN write a book, even if your grammar and spelling are terrible!
*Find out how to get started and get your book written without spending 8 hours a day in front of your computer.
*Learn the importance of Social Media for marketing your book.
*Find out the essentials of creating a buzz for your book and the best time to get started.
This is a 2-part teleclass.
Part 2 is May 10th. 7 pm Eastern.
There will be an encore presentation if you miss one part. When you register, you will also get the encore information.