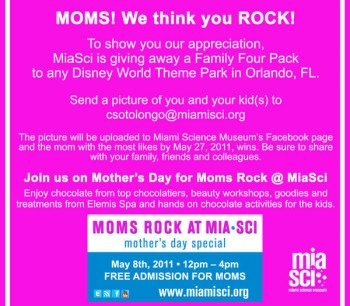 Rockin Photo Contest and Mother's Day Event at Miami Science Museum hosted by the MiaSci Moms
Mother's Day, Sunday, May 8th, from 12-4 p.m
Miami Science Museum
3280 South Miami Avenue
Miami, FL 33129
MiaSci Moms, the new Miami Science Museum advocacy group made up of local moms, is hosting Moms Rock @ MiaSci this Mother's Day, Sunday, May 8th, from 12-4 p.m. at the Museum. Moms and their families are welcomed to enjoy chocolate samplings, massages, chocolate art, the science behind chocolate, hands on activities and much more. Moms are invited to attend the event for FREE!
Chocolatiers, including Le Chocolatier, Wendy's Chocolates, Cao Chocolates and Romanicos will be providing tasty chocolate treats, Starbucks will be sampling their VIA ready to brew coffee and iced teas and Elemis Spa will be on site with massage tables and will conduct a "Science of Flawless Skin" workshop and will also have recipes for homemade masks. Other activities include, Blind Chocolate Taste Testing, Chocolate Process Tasting (tasting chocolate in its different forms from bean to final product), Chocolate Art and a talk on the Origin of Chocolate presented by Le Chocolatier.
In addition to the Moms Rock @ MiaSci event, MiaSci Moms has launched a Facebook photo contest to celebrate moms! Entrants are asked to submit their most fun and creative family photos between April 25th and May 27th. The entries will be uploaded to the MiaSci Facebook page: http://Facebook.com/MiamiScienceMuseum, where friends and family will be invited to "Like" each photo. The photo with the most "Likes" by May 27th will win a Family Four Pack to any Disney World theme park in Orlando, FL. Contest rules and regulations are available online: http://MiamiSci.org/MiaSciMoms
MiaSci Moms is a diverse group of moms who not only serve as ambassadors for the Museum but also take a look at the Museum from an insider perspective and help the Museum provide better programs, exhibits and events for its visitors. The group meets once a month for a different Museum experience, including Wildlife Encounters, a new Museum presentation and conversation with CEO Gillian Thomas, preparation and planning for the Moms Rock @ MiaSci Mother's Day event and Moms Rock Photo Contest. The group also engages in an open dialogue to discuss each experience and, using that feedback, the Museum works to enhance the visitor experience.
For more information about MiaSci Moms, Moms Rock @ MiaSci and the Moms Rock Photo Contest, please visit: http://MiamiSci.org/MiaSciMoms