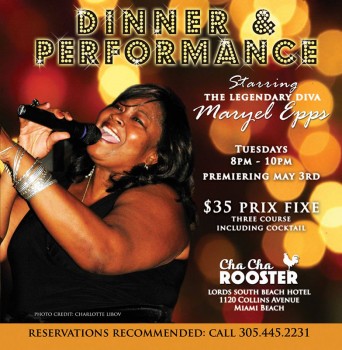 Artist In Residence
Tuesday, May 3rd from 8 to 10pm
Lords South Beach
1120 Collins Ave
Miami Beach, FL 33239
As part of Lords South Beach hotel's Artist In Residence performance series, legendary diva Maryel Epps will be performing every Tuesday night starting next week on Tuesday, May 3rd from 8 to 10pm.
Maryel will deliver what's sure to be an unforgettable performance during a $35 prix fixe three-course dinner (including a cocktail) at Cha Cha Rooster restaurant. She has performed with music legends like Bob Dylan, Chaka Khan, Dizzy Gillespie, David Bowie, Patti Labelle and David Lee Roth – not to mention a memorable opening performance for Prince at his club Glam Slam in South Beach.
Also part of the Artist In Residence series, Lords is pleased to announce weekly cabaret performances by Glenda and Kimona. On Friday nights, join star of stage and screen Glenda Granger for a night of entertainment, and on Saturday nights, guests will be treated to the vocal stylings of drag jazz singer Kimona. Showtimes are at 8:30 and 10:00 both nights, and there is a $35 three course prix fixe menu with a complimentary cocktail.
Reservations are recommended as seating is limited. 305.445.2231