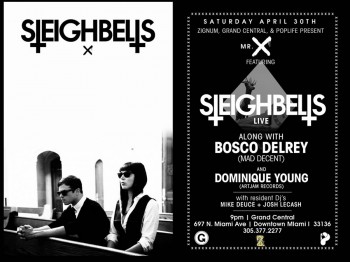 Mr. X presents Sleigh Bells performing Live
Saturday, April 30th, Doors: 9pm, Showtime: 11pm
Grand Central
697 N. Miami Avenue
All Ages
Website.
Facebook.
$15 advance tickets
Songwriter/producer Derek Miller (onetime member of hardcore act Poison the Well) and vocalist Alexis Krauss comprise Sleigh Bells, an experimental pop duo formed in New York. Their combination of pop hooks with loud, rhythmic crunch got them signed to M.I.A.'s boutique label N.E.E.T. releasing its debut album, Treats, in 2010.
Support: Bosco Delrey (Mad Decent)Â  + Â Dominique Young (Artjam Records)
alongside residents: Mike Deuce + Josh Lecash