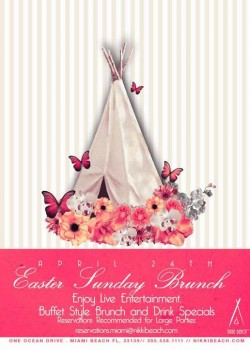 Easter Sunday Brunch
April 24, 11 am to 4 pm
Nikki Beach Miami
One Ocean Drive
Miami Beach Florida 33139
305 538 1111
www.nikkibeach.com
Our Award-Winning Sunday Brunch runs from 11a.m. to 4p.m. every Sunday. Our newest Brunch additions include a crepe and waffle station along with classics like: omelet station, custom pastas, freshly carved meats, sushi station, desserts and more!
Enjoy VIP bottle and beverage service or even a massage from any of our lounge beds.
Always the best Live Entertainment and Sounds provided by residents Felipe Kaval and Bruno
Reservations recommended for large parties: reservations.miami@nikkibeach.com or call 305-538-1111
[tubepress video="0C2n6kmtjGs"]