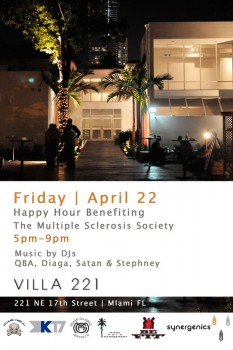 Friday, April 22, 2011 5:00 pm – 9:00 pm
Villa 221
221 NE 17th St
Miami, FL 33132
Please join us for Happy Hour!
Music by DJs QBA, Diaga, Satan, & Stephney and drink specials from 5pm – 9pm.
Villa 221 has generously offered to donate 15% of its bar sales to the National Multiple Sclerosis Society. This year marks the 25th Anniversary Zimmerman MS Bike Ride, which raises over $1 million to support Multiple Sclerosis research and the peopole who live with MS every year.
The National Multiple Sclerosis Society is dedicated to ending the devastating effects of MS. They simultaneously fund research for a cure while also helping people who currently live with MS lead more fulfilling lives. More than 400,000 Americans live with MS, and your support can and will make changes in their lives.
Please consider coming by for a drink and a good cause with us this Friday!
If you are unable to make it to the event but would like to support the cause, please feel free to donate to team Club Hell directly by following this link.