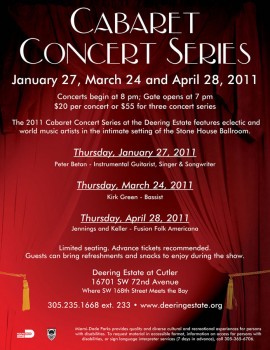 Cabaret Concert
Thursday, April 28th
Deering Estate
16701 SW 72 Ave
Miami FL 33157
More Info.
featuring Jennings and Keller – Fusion Folk Americana
Jennings and Keller is Laurie Jennings Oudin and Dana Keller, an acoustic duo based out of Miami, Florida. They bring a wealth of experience to their collaboration, from the Broadway musicals of New York to the honky tonks of West Texas. Their music is called "Fusion Folk Americana' – a blend of many different elements that comes from their vast and wide-ranging musical backgrounds. With the release of their debut CD, 'Susan's House', and its follow-up (May 2009), 'As The Universe Unfolds', Jennings and Keller are quickly gaining recognition throughout the country. In 2007 alone, they were finalists in five songwriting contests across the nation: South Florida Folk Fest, Suwanee SpringFest, Susquehanna, SolarFest, and Falcon Ridge Folk.
Laurie Jennings Oudin is well-known as the former proprietress of The Main Street Cafe, which was viewed across the country as the premier acoustic music venue in Florida. A former Shakespearean actress, Laurie has been a singer and songwriter for many years. Since the cafe's close in June 2006, she has been devoting her time to her musical career with Dana.
Dana Keller is a veteran pedal steel, dobro, and guitar player who has spent years performing on stage or in the studio with such luminaries as Vince Gill, Ricky Skaggs, Stevie Wonder, Larry Graham, Marvin Gaye, Dave Mason, Johnny Rodriguez and The Allen Brothers, to name a few. He has opened for, among others, Spirit, Pure Prairie League, Gordon Lightfoot, Waylon Jennings, and Buck Owens. Dana has been an endorsee of the Gretsch Guitar and Drum Company since 1980.
The synergy created from these two diverse talents is apparent in the responses they are getting from festival directors, club owners, and audience members. Laurie's and Dana's music is not easy to define, but will leave a lasting impression on all who listen.