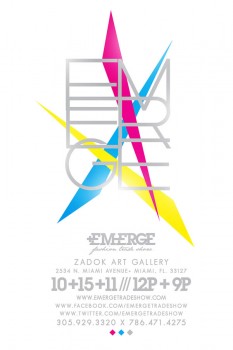 2nd Annual Fashion Trade Show to Showcase Emerging Designers
Saturday, October 15, 2011
Zadok Art Gallery
2534 North Miami Avenue
Miami, FL 33127
Website.
eMERGE Trade Show announces their 2nd annual fashion trade show after a successful show in April 2010. One of the most sought after trade shows for emerging designers of streetwear, contemporary, designer and accessory brands in the marketplace.
eMERGE Trade Show is proud to present its 2nd annual event which will take place in sunny Miami, FL once again, on Saturday, October 15, 2011. As the barometer continues to rise for eMERGE, the event will take place at Zadok Art Gallery, located in the Wynwood Arts District. The perfect setting where an artist can display their work and a buyer can find its muse.
Clothing companies travelled from around the world from as far as Canada and London because they believed in the eMERGE vision. Many brands that attended last year are anxiously waiting for the 2011 show, in addition to many newcomers. A larger and overall better trade show will take place this Fall and eMERGE welcomes all exhibitors, buyers and sponsors to join them in Miami.
eMERGE is an innovative fashion trade show for upcoming and emerging brands, to showcase their collections to the best boutiques and retailers. Most conventional trade shows do not focus their attention on independent companies that are yearning for exposure in the fashion market. eMERGE is here to assist these brands in growing their business to become the next big "IT" FACTOR. Brands attending eMERGE are breaking barriers and aren't afraid to take risks to be a recognizable force in the market, and therefore, they will…."ARISE AND CONQUER"
eMERGE is pleased to announce that all donations accepted at the door will benefit Project K.I.T.E. and the American Cancer Society.