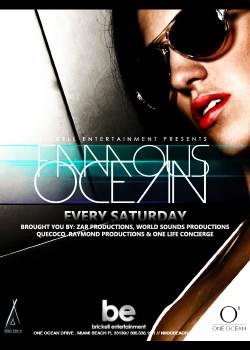 Famous Ocean
From 4 9 2011 To 4 10 2011, From 11 pm to 5 am
club o1
One Ocean Drive
Miami Beach Florida 33139
305 538 1111
WWW.CLUBO1.COM
Every Saturday at Club O1 From 11PM-5AM
Brickell Entertainment Presents Famous Ocean Saturdays at Club O1. Join us for Guest DJ Diego Harispe, and Famous Ocean regulars Lazardi, Nikolas and Rey Fernandez. This event is brought to you by: Zar Productions, Dag Productions, Raymond Productions & World Sounds Productions.
For more information or to book your reservation email: VIP TABLES