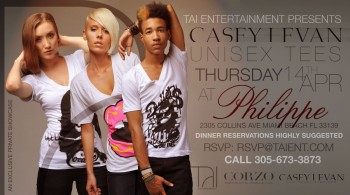 Casey Levan Presents Unisex Tees At Philippe Chow April 14th Hosted By Tai Entertainment
Thursday April 14th 2011, 10:00 P.M.
Philippe Chow
2305 Collins Ave
Miami Beach, Fl 33139
(Gansevoort)
Please RSVP at rsvp@taient.com
Casey Levan hosted by TAI Entertainment is having an Exclusive Showcase of His new Unisex Tees. From New York, Sweden, France, LA and from your Local scene here in Miami these controversial tees have gain a quick popularity. Featured in Music Videos and Reality Shows this is only the beginning!
Accept No Imitations!
We have invited an A list of Miami's most "Wanted" and this is an event you would not want to miss!
Please forward this email, we will be giving away one of our new tees to one lucky RSVP. Be there or be square.