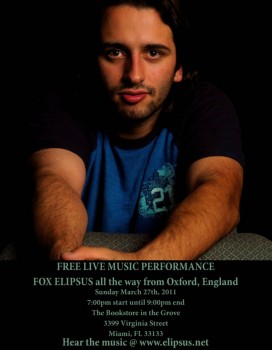 Fox Elipsus from UK, Free Show @ The Bookstore in the Grove
Sunday, March 27, 2011, 7:00PM-9:00PM
The Bookstore in the Grove
3399 Virginia Street
Coconut Grove, FL 33133
Facebook Evite.
I'm coming to the Miami area in 6 days for my first local show in 2 years, and it's free! I'm from Oxford, England, not sure if you knew that? I've never had an amazing FL crowd: let's change that! I sing about peace, love & the environment, & I'm trying to bring meaning back to music, like Lennon did. The live show is family friendly & will make you laugh I perform for free, & sleep in my car, so your support is appreciated!
Please come & bring friends!
MIAMI AREA – my first local show in 2 years
SUNDAY 27TH MARCH (5 days from now), from 7PM until 9PM
The Bookstore in the Grove, 3399 Virginia St, Coconut Grove, FL
I've never had a big crowd in South Florida – can this be the first?
Plus: Fri 25th 7pm WEST PALM BEACH @ Starbucks Coffee (226 Clematis St), Sat 26th 8pm FORT LAUDERDALE AREA @ Stork's Bakery & Cafe (3325 S University Dr, Davie, FL), Gulf Coast all week, Key West Monday, Orlando Tues, Daytona Weds, Jax Thurs, & more! Check my sites (below)! Also, know any cheap, local, delicious food for a hungry Englishman far from home?
Your friend from England – Fox Elipsus
PS – All my music is on http://www.facebook.com/foxelipsus – please click "like" if you like it, and maybe "suggest to friends"? Also, you can watch all my music videos on http://www.youtube.com/foxelipsus – If you'd like to get my double CDs, they're really cheap on http://www.elipsus.net/ and that helps a lot. Make sure you come up and introduce yourself at the show because I would love to meet you