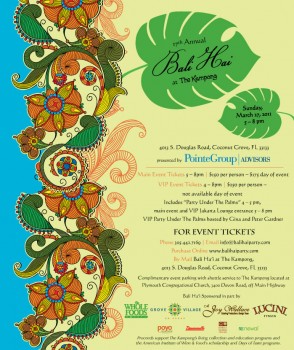 17th Annual Bali Ha'i at The Kampong
Sunday, March 27, 2011
The Kampong
4013 S. Douglas Road
Coconut Grove, FL 33133
www.balihaiparty.com
The 17th annual Bali Ha'i Party – presented by Pointe Group Advisors – will take place Sunday, March 27, 2011, 5:00 PM to 8:00 PM. The event is held at The Kampong, an exotic botanical oasis in Coconut Grove that offers a glorious setting to enjoy fine wine and gourmet foods. Bali Ha'i will entice guests with exquisite wines, champagnes and exotic libations along with tempting culinary samplings from 25 top South Florida restaurants. In addition, a cornucopia of luxurious auction items will be available for bidding by event participants. Event planners are very excited to announce that A Joy Wallace Catering has been named the event production group for 2011. Their experience and expertise promises to make Bali Ha'i 2011 an extraordinary event.
The event, a collaborative effort between The Kampong of the National Tropical Botanical Garden and the South Florida Chapter of The American Institute of Wine & Food, along with many influential sponsors, raises funds to maintain and expand The Kampong's tropical botanical collection, providing a living classroom and laboratory for visiting scientists, students, and garden visitors. Bali Ha'i also raises funds to further the goals of the American Institute of Wine & Food, providing educational and nutrition based programs (Days of Taste) and scholarships to some of the finest culinary institutes in South Florida. Regarded as one of the most important food and wine events on the Miami social calendar, Bali Ha'i at The Kampong has sold out each of its sixteen years with over 500 upscale gourmets in attendance.
New at Bali Ha'i 2011 – Event theme is "Bollywood at Bali Ha'i" experience all the sights, sounds and pleasures direct from India. Entertainment to include live Sitar player and Henna artist (VIP only), authentic Bollywood music and the beautiful fire dancer's from Pyro Fusion performing at Sunset. New VIP exclusive Jakarta Lounge open from 5 to 8 PM and located in the Schokman Education Center with glorious views of The Kampong Main Lawn, featuring the cuisine of Rosa Mexicano and 3030 Ocean and beautiful Italian, Argentine and California wines. VIP plus accommodations with reserved seating and table service, located in the Jakarta Lounge, are sold out for 2011! Main event, in addition to our regular food and beverage station's, selected chef's cuisine will be paired with the perfect beverage – creating the ultimate food and wine experience for guests. Silent auction and lounge are located at Bollywood Central, under the big tent on The Kampong tennis court.
Restaurant/culinary participants announced to date include: Ortanique on the Mile, Wynwood Kitchen & Bar, Chef Allen's, A Joy Wallace @ Vizcaya Café, 1500 at the Eden Roc, 3030 Ocean, Eos at the Viceroy, Hakkassan at the Fontainebleau, Rosa Mexicano, Quattro Gastronomica Italiana, River Seafood & Oyster Bar, The Fairmont Turnberry, A Piece of Cake, Inc., Bimini Boatyard, Gaby's Farm, Ian's Tropical Grill, Mango Café at The Fruit & Spice Park, Por Fin, Sawa Restaurant, Vino & Olio, Florida International University Café and Techniques Restaurant at Le Cordon Bleu. More to come in the next few weeks!
Always a highlight of the event is our "People's Choice Awards" selected by attending guests at our main event from previous year's. Featured at our VIP "Party Under The Palms", from 4 to 5 PM are People's Choice Winner's Chef Cindy Hutson – Ortanique on the Mile, Chef Marco Ferraro – Wynwood Kitchen & Bar and Chef Brandon Whitestone – Chef Allen's Restaurant.
Wine/libations and beverages offered by the following: Preview Party Champagne "Tattinger" sponsored by Republic National, event wine retailer Leon's Wine's & Liquor's, featured wine maker's Deering Winery and Gauthier Select Vineyards, Water by Re:newel water. Main event beverage suppliers include Bullet Proof Wine and Spirits, Fresh Beer, International Wine Importers, Premier, Republic National, Vinamericas, United Fine Wines, Barry Alberts for El Carajo Wine Shop and Vine Connections – featuring wine, beer and sake. Bali Ha'i is pleased to announce our 2011 sponsor's: Presenting Sponsor – Pointe Group Advisors and Chef Sponsor – Whole Foods Market's. Additional sponsors include A Joy Wallace Catering Production & Design Team, UPS – United Parcel Services, Grove Village on Grand, Lucini Italia, United Automobile Insurance Company, Poyo Photo Inc., Diamonette Party Rentals, Republic National Distributing Company, Re:newal Water, Espirito Santo Bank, Plymouth Congregational Church and Punch Inc. Marketing Solutions. Bali Ha'i, Miami's treasured garden party wine and food event, ticket pricing: VIP tickets are $250.00 per person and include VIP party under the palms from 4 to 5 PM, VIP Jakarta Lounge and main event entrance from 5 to 8 PM. Main event tickets $150.00 per person (175.00 per person the day of the event) include main event from 5 to 8 PM. Bali Ha'i organizers believe there is no other event like this in Miami where you can sample such amazing food, drink wonderful wines and beverages, enjoy the splendid garden and bid on a remarkable array of auction items. VIP ticket sales are limited at 200 guests and are not available the day of the event. 70% of the cost of tickets is a tax deductible contribution. Complimentary parking with shuttle service for event guests will be provided at Plymouth Congregational Church, 3400 Devon Road, Coconut Grove. Bali Ha'i is an all- weather outdoor event. Should inclement weather be in the forecast all Bali Ha'i venues will be under tent. For more information, please visit our even web site – www.balihaiparty.com. Photo images are available upon request. Media Contact: Daniel Richeal, AIWF South Florida Chairman, AIWF National Board Member and Bali Ha'i Party Co-Chair. Email spikeanddan@aol.com – phone – 305-899-5847, cell – 305-542- 8762.