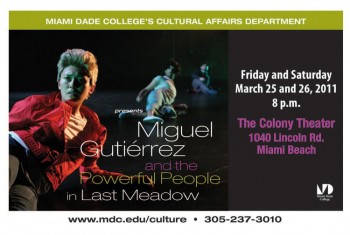 Friday and Saturday, Mar. 25 – 26, at 8 p.m.
MDC's Cultura del Lobo Performance Series Presents Last Meadow
The Colony Theater
1040 Lincoln Road
Miami Beach
Mining scenes from James Dean's East of Eden, Rebel without a Cause and Giant films, Miguel Gutierrez and the Powerful People reach back fifty years to portray an America where the jig is up and the dream has died. Miami Dade College's (MDC) acclaimed Cultura del Lobo Performance Series will present this powerful work, titled Last Meadow, on Friday and Saturday, Mar. 25 – 26, at The Colony Theater in Miami Beach.
Last Meadow, which earned a 2010 Bessie Award, is set to a collage-like score created by composer Neal Medlyn and lighting by longtime collaborator Lenore Doxsee. With gorgeous dance passages, monologues and action, the show expresses longing and frustration in ways that words cannot. Gutierrez is accompanied onstage by Powerful People performers Michelle Boulé and Tarek Halaby.
"This is the most experimental performance that we are presenting this year," said Elizabeth Doud, Cultura del Lobo's artistic director. "Gutierrez's work is important because it represents a young American voice that is directly questioning not only social norms but also norms in artistic practice. He is an intrepid dance maker who isn't overly concerned with the aesthetics of beauty, but delivers a blend of dance-poetry that is unapologetic and irreverent, yet endearing in image, movement and voice."
"We are proud to include Gutierrez's work in the Cultura del Lobo Performance Series and stand behind emerging artists and their risk taking," she added.
This presentation of Last Meadow is supported by the National Performance Network, which provides support for established and emerging artists in dance, music, theatre, performance art, puppetry and spoken word.
The Cultura del Lobo Performance Series is an MDC initiative, through the Cultural Affairs Department. It was originally conceived as a play on the name of the downtown campus (Wolfson) and the adventurous spirit of the college's programs, and has a celebrated history of featuring international and culturally specific work, both traditional and contemporary, which would not otherwise be seen in this region. In fact, two recent Grammy Award winners – Esperanza Spalding and the Spanish Harlem Orchestra – were featured artists in the series.
Tickets for Last Meadow are $20 – $25 for general admission; students and seniors $18. MDC students, faculty and staff with proper ID receive a discount.
For more information, please contact MDC Cultural Affairs Department.