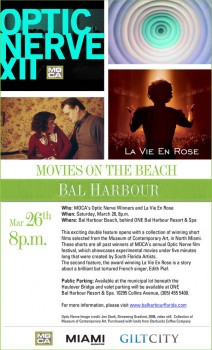 MOCA's Optic Nerve Winners and La Vie En Rose
Saturday, March 26, 8p.m.
Bal Harbour Beach
behind ONE Bal Harbour Resort & Spa
10295 Collins Avenue
This exciting double feature opens with a collection of winning short films selected from the Museum of Contemporary Art, in North Miami. These shorts are all past winners of MOCA's annual Optic Nerve film festival, which showcases experimental movies under five minutes long that were created by South Florida Artists.
The second feature, the award winning La Vie En Rose is a story about a brilliant but tortured French singer, Edith Piaf.
Public Parking: Available at the municipal lot beneath the Haulover Bridge and valet parking will be available at ONE