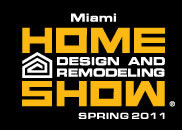 Miami Home Design and Remodeling Show
March 25 – 28, 2011
Miami Beach Convention Center
1901 Convention Center Dr.
Miami Beach, FL
(just east of Meridian Avenue at 17th Street)
www.homeshowspecials.com
Friday & Saturday: Noon-10:30 pm
Sunday: Noon-7:30 pm
Monday: 6:00 pm-10:30 pm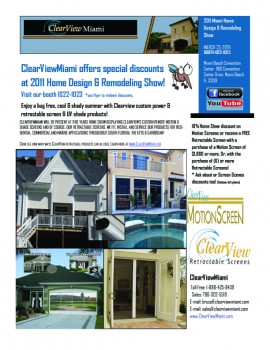 Miami's premier home improvement event returns to the Miami Beach Convention Center. Thousands of products and services will be on display in one convenient location.. The Home Design & Remodeling Show is a unique marketplace that enables homeowners to experience the products and services first hand, talk one-on-one with the experts and get personalized advice to plan individual home improvement projects. From easy-to-implement redesigns to full renovations, the wide variety of displays will provide inspiration to improve, update and renovate the home. Consumers can shop onsite, compare products in person and save with the special show prices offered throughout the event.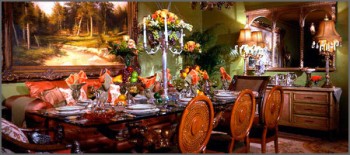 OPEN TO THE PUBLIC AND THE TRADE.
This year's show will feature: Andrew Downward from HGTV's Divine Design
Andrew will show how to totally change a room for under $100 and love it!
Complimentary seminars will be held at 1:00 & 4:00 pm Saturday, March 26 and Sunday, March 27th.
Wine and Cheese Nights at the Show
Enjoy The Home Design & Remodeling Show during the Wine and Cheese Nights, Friday and Monday. Purchase a glass of wine at the Wine Bar and enjoy complimentary cheese.
Celebrity Designer Showcase
Elegant designer showrooms will be created for South Florida media personalities.
Click the Coupon below to enlarge and save it.