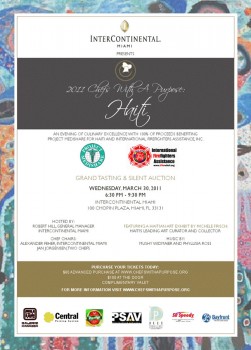 Chefs With A Purpose:Haiti
Wednesday, March 30th, 6:30pm-9:30pm
InterContinental Hotel Miami
100 Chopin Plaza
Miami, Florida 33131
Dr. Barth A. Green, Co-Founder/President, Project Medishare Lieutenant Nate Lasseur, Founder/President, International Firefighters Assistance Mr. Robert Hill, General Manager, InterContinental Miami Executive Chef Alexander Feher, InterContinental Miami Top Chefs from South Florida and the U.S.
Tickets: General Public: $80 advanced purchase at www.chefswithapurpose.org. $100 at the door the day of the event. Press: Please email aurelia.vasquez@ihg.com for more information on how to become accredited for the event
For more ticket and event information visit www.chefswithapurpose.org
The Chefs With A Purpose: Haiti event was conceived after the devastating Haiti earthquake in 2010. At the time, the InterContinental Miami reached out to its staff to determine how many were from and/or had family in Haiti. Nearly 90 employees, approximately one-fifth of the hotel's staff, were affected. The hotel assisted its employees and families in a variety of ways such as assistance in locating lost loved ones and monetary and product donations. The fundraising event was created shortly thereafter to be able to have a greater reach in assisting the people of Haiti.
The InterContinental Miami organizes this event by donating its staff time and event space and services with 100 percent of the event proceeds going the Project Medishare and IFA. Chefs With A Purpose: Haiti was born of compassion and the urgency to partner with local community organizations in the relief efforts. " We are honored to partner for the second year with International Firefighters Assistance and to begin a new partnership with Project Medishare," said Robert Hill, General Manager of the InterContinental Miami. "One year later, this event takes on a greater importance because Haiti is not forgotten. More than ever we need to continue to promote awareness and provide much needed help that is still required."
Guests of Chefs With A Purpose: Haiti will be greeted with music of renowned Haitian performers Mushy Widmaier and Phyllisia Ross. The event will feature over 20 tasting stations each offering a signature menu item by the participating top chefs. The evening's silent auction will feature items ranging from hotel stays, unique dining experiences, art and other luxury items. A new addition this year is a Haitian art exhibit by Michele Frisch, Haiti's leading art curator and collector. From March 16 through April 6, the lobby of the InterContinentalMiami will feature Haitian art from the Galerie Marassa collection and coincide with arteaméricas, the premier fair of art from Latin America. Advanced purchase tickets are $80 and will available starting Friday, February 18 through the event's website at www.chefswithapurpose.org. The website will also feature updates on the chefs and the evening festivities as it becomes available.