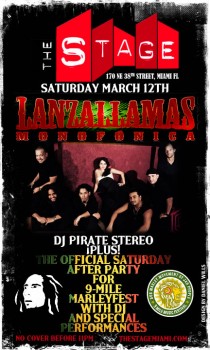 The Stage Welcomes A Plethora Of 9 Mile Music Festival Goers
Saturday, March 12th, 10 pm
The Stage
170 NE 38th Street
Miami, FL 33137
$15 by 12:30am/ $20.00 After
Bob Marley Movement Takes Over The Stage for The 18th Annual Music Festival After Party
The 18th Annual 9 Mile Music Festival, formerly known as the Caribbean Festival takes over The Stage –expecting a plethora of concert goers, music lovers and nightlife scenesters for the official after party.
Join the Bob Marley Movement, local artist and musicians, and Miami Nightlife patrons in celebrating and paying tribute to the life of the legendary Bob Marley.
Those attending will also be delighted with a live performance by Lanzallamas Monofonica sharing tunes from their recently released EP titled "Mezcla".
$7 Red Stripe Special
About The Stage:
The Stage is the latest entertainment venue to join Miami's booming Music Corridor which stretches from the outskirts of Brickell to the Brooklyn-esque Design District. A 10,000 square foot entertainment venue, The Stage gives onlookers a birds-eye view of performances on their nearly 200 square foot stage. Two garage style doors open to the outdoor space providing unobstructed views at nearly every angle. Taking cues from old world New Orleans, Andrea Mejia designed The Stage with the charm and sophistication of the city in mind. Make no mistake; The Stage isn't just another good looking venue, it's has soul. With state-of-the-art acoustics, lighting and equipment, The Stage will undoubtedly introduce a whole new experience of authentic talent to the City and is sure to be a favorite for both entertainers and the audience. The Stage is located at 170 NE 38th Street in Miami's Design District. For more information call 305.576.9577, visit their website at www.thestagemiami.com, or find them on facebook at www.facebook.com/thestagemiami.