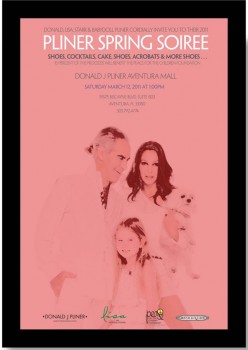 Pliner Spring Soiree
March 12, 2011, 1:00 pm
Donald J Pliner, Aventura Mall
19575 Biscayne Blvd., Suite 803
Aventura, FL 33180
www.donaldjpliner.com
Renowned designers and leaders in the footwear and accessories industry, Donald J Pliner and wife Lisa Pliner will present their Spring Footwear Collection at a reception to benefit Peace for the Children's Foundation. Continuing to impress men and women with their innovative designs, high style and unprecedented comfort, Donald and Lisa offer trends for a fashionable season and give back to the Florida community.
Shop the Donald J Pliner and Lisa for Donald J Pliner Spring Collection of men's and women's footwear at the 2011 Pliner Spring Soiree, with Hor D'oeuvres provided by Grand Lux Café and acrobatic acts provided by Rainbow Circus. Ten percent of all proceeds will benefit the Peace for the Children's Foundation, Donald and Lisa's charity created to channel funds to deserving projects and initiatives that advance peace, care, and welfare to children in need.
We would like to cordially invite you to Donald and Lisa Pliner's Pliner Spring Soiree at the Aventura Mall on Saturday, March 12 at 1:00 pm.
For questions or to RSVP to the soiree filled with shoes, cocktails, cake, shoes, acrobats and even more shoes, please email me at: sarah.g@donaldjpliner.com.
Hope to see you there!