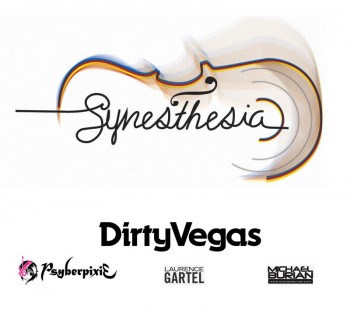 Synesthesia featuring Dirty Vegas with live Orchestra at the New World Center
March 24, 2011, 9:30 pm – 1:00 am
New World Center
500 17th Street
Miami Beach, FL
www.synevent.com
Facebook Evite.
Tuzexx & Veni Vidi Vici Present: "Synesthesia"
A One Of A Kind Multi-Sensory Experience
Featuring Grammy Awarding Winning Artist "Dirty Vegas" At The Miami New World Symphony's New World Center
Incorporating stimulation of the five senses, Synesthesia featuring Dirty Vegas presents a one of a kind experience never before seen in the United States.
During the month of Winter Music Conference and Ultra Music Festival, Miami's most anticipated music gatherings, a never before experienced fusion of the five senses will be presented at the New World Center designed by Pritzker Prize winning architect, Frank Gehry. Synesthesia will present the unique combination of a live 30-piece symphony orchestra performing with featured artists, while also incorporating visual projections by Laurence Gartel & Psyberpixie, together with scent creating technology previously only utilized by entertainment giants like Cirque Du Soleil and Disney.
One of Synesthesia 's multi-sensory journeys will showcase a performance by Grammy Award winning artist Dirty Vegas. The second, featuring special guest, Michael Burian, takes attendees through a performance that highlights the history of House music.
This distinctive event will take place at Miami's New World Center, the newest addition to Miami's modern art scene. This multifunctional building, designed by Frank Gehry, was listed by BizBash as South Florida's "most anticipated" venue of 2011.
"Miami is one of the music meccas of the world, events like the Winter Music Conference and Ultra Music Festival bring thousands of music professionals and music enthusiasts to the Miami metro area" said Daniel Saro, founder of Tuzexx. "By satisfying five basic senses," said Saro, "we are creating the "Ultimate Experience", a show that sets new standards in the entertainment industry."
Setting Synesthesia apart from any other event is its fusion between DJ and live orchestra performance as well as its incorporation of the five senses:
HEAR, the state-of-the-art performance hall was designed under the supervision of Grammy Award winning conductor Michael Tilson Thomas and critically acclaimed architect Frank Gehry to maximize the listener's experience
SEE, Laurence Gartel, the father of digital art, and Psyberpixie VJ will use 280-degree projection capabilities to enhance visual experience
SMELL, the inclusion of scent creating technologies to enhance the overall experience
TASTE, dinner & cocktail pairing by Miami's premiere chefs and mixologists for VIPs and sponsors before the show
FEEL, the experience of live instruments and their vibrations in an incredible setting.
Synesthesia takes place on Thursday, March 24, 2011 from 10pm to 2am at the New World Center. For more information, including ticket information and VIP Packages, please visit www.synevent.com.
DIRTY VEGAS is a Grammy Award winning British house music trio made up of Ben Harris and Paul Harris on instruments and production and Steve Smith on vocals.
They are best known for their international hit single "Days Go By", which gained mainstream popularity in a 2003 Mitsubishi Eclipse television commercial, and for remixing songs created by other artists.
Contact: www.dirtyvegas.com
DJ MICHAEL BURIAN is one of the most successful European DJs and producers. He holds three Czech DJ of the Year awards and is regularly featured at the world's most prestigious festivals and parties like Creamfields and Sensation. Burian is a renowned mega-talent from Prague and is sponsored by Audi and Stanton in Eastern Europe. His singles regularly occupy top places in the prestigious sales charts and his tracks are supported by world best DJs. "…the Paul Oakenfold of Eastern Europe…"
Contact: www.michaelburian.com
LAURENCE GARTEL is considered the "FATHER" of the Digital Art movement around the world for over 35 years. His work has been exhibited at the Museum of Modern Art, Joan Whitney Payson Museum, Long Beach Museum of Art and in the permanent collections of the Smithsonian Institution's Museum of American History and the Bibliotheque Nationale. "Mr. Gartel taught Andy Warhol how to use the Amiga Computer, when he got the commission to do the cover of Debbie Harry's (Blondie) album cover. Gartel had many associations with musicians such as Debbie Harry (Blondie) Sid Vicious (Sex Pistols), Stiv Bators (Dead Boys) Johnny Thunders (New York Dolls) Ace Frehley (Kiss) and Wendy O Williams (Plasmatics). And recently for Pop Culture stars Justin Timberlake and Britney Spears. His ABSOLUT GARTEL commission for Absolut Vodka has graced the pages of "ART-IN-AMERICA," "Artforum," "Sothebys," "Art and Auction,""Art "WIRED," & "NY Magazine. Contact: gartel@aol.com
PSYBERPIXIE is world's leading female VJ. She's been Visualizing Music for the past 8 years, playing live with hundreds of Musicians and DJ's in an array of music world wide. Some Musicians she's worked and played with: George Clinton, P-Funk Band, Harry Waters, Jane's Addiction, India Irie, Tommy Lee, MOBY, Paul Van Dyk, Tiesto & Sasha. Contact: www.psyberpixie.com
TUZEXX is a multicultural entertainment and event production company focused on creating the "Ultimate Experience". With a European attention to detail, we concentrate on building energy that takes you on a journey beyond your wildest fantasies. Tuxexx focuses on organizing events in unconventional environments to create entertainment phenomenons around the world.
"Tuzexx is here to connect the dots of the global music movement. Music erases borders of race, culture and religion. It is the missing link we were all looking for."
–Tuzexx Founder Daniel Saro
Contact: daniel@tuzexx.com, www.tuzexx.com,
VENI VIDI VICI ["I came, I saw, I conquered"] is an event marketing and production company based out of Miami, FL. Focusing on emerging talents, unique artistic visions and creating cultural experiences, Veni Vidi Vici aims to bring a fresh prospective to the local and global event scenes.
"Veni Vidi Vici is committed to providing and creating events that go beyond the ordinary and which engage and inspire. We work closely with our clients to provide concise and complete event planning, marketing and production."
– Veni Vidi Vici Co-Founders Ernesto Reyes and Erica Fickling
Contact: ernesto@vvvmiami.com, erica@vvvmiami.com, www.vvvmiami.com