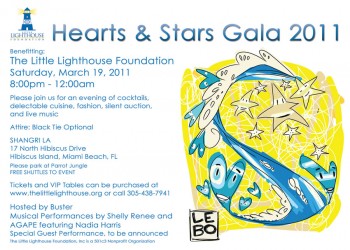 Saturday March 19, Â 8:00pm- 12:00am
Shangri La Mansion
17 North Hibiscus Island Drive
Hibiscus Island, Miami Beach, FL
Event Hosts: Buster and Miss Denmark 2010 Natalia Averina
Event Co-Chairs: Rob Sena and RS Schmitt
Board of Directors: Charlie Venturi, Robert Sena, Aaron Resnick, Aracibo Quintana
Sponsors: Grey Goose, Everlast, and Primp Salon
The Little Light House Foundation Presents the Second Annual "Hearts and Stars Gala"
Bringing Together Miami's Best for One Night to Sip, Dance and Play all for a Good Cause
Rob Sena, R.S. Schmitt and Aaron Resnick invite you the Second Annual "Hearts and Stars Gala" event on Saturday, March 19 to benefit the Little Lighthouse Foundation. The goal of the Little Lighthouse Foundation is to seek, identify and provide support to South Florida children and families that have suffered health, educational and financial challenges.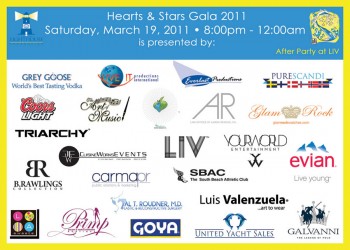 Only in its second year, The Little Lighthouse Foundation has made strides for South Florida families. After raising over $100,000 in 2010, Hearts and Stars looks forward to another successful fundraising year. The prestigious event will be held at the beautiful SHANGRI LA waterfront mansion of George Wallner and will feature delectable bites, cocktails courtesy of GREY GOOSE Vodka, a fashion presentation by Luis Valenzuela, live music and an incredible auction.
Miss Denmark 2010 Natalia Averina will welcome guests and kick off the nights festivities. Renowned singer Shelly Renee and Agape with Nadia Harris will provide a live performance. Just in case that wasn't enough, the evening will also feature a "surprise" musical guest.
Tickets and VIP tables can be purchased at www.thelittlelighthouse.org or by calling 305-438-7941.
The Little Lighthouse Foundation (LLF) seeks, identifies and provides support to children and their families with health, educational, and financial challenges. This support comes through the deployment of LLF trained volunteers and/or select financial contributions. Beneficiaries include children, families, and select child orientated charities throughout southern Florida. For more information visit www.thelittlelighthouse.org.