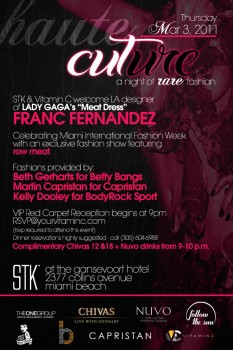 Haute CUTure Fashion Show & Red Carpet: A Night of Rare Fashion hosted by
Designer Franc Fernandez
March 3rd, 2011 from 9 PM – 12:30 AM
STK at The Gansevoort Hotel
2377 Collins Avenue
Miami Beach, FL
VIP Red Carpet begins at: 9 PM
Complimentary Chivas and NUVO cocktails will be served from 9 PM to 10 PM
Please RSVP to Brittney@wunderlichinc.com
Haute CUTure Red Carpet Event: A Night of RARE Fashion hosted by renowned designer, Franc Fernandez, in collaboration with STK and the Gansevoort Hotel, Miami Beach. Taking place on March 3rd, 2011, this exclusive event will kick off Miami International Fashion Week and feature a fashion show that has never been seen before, comprised of Everything Meat!
The VIP Red Carpet begins at 9 PM and complimentary Chivas and NUVO cocktails will be served from 9 PM to 10 PM. Dinner reservations are highly encouraged as well.
World Renowned Designer of Lady Gaga's Meat Dress, Franc Fernandez, partners with local up and coming designers, Beth Gerharts for Betty Bangs, Martin Capristan for Capristan and Kelly Dooley for Body Rock Sport
Haute CUTure Fashion Show & Red Carpet Event showcasing select pieces from the designer's current collection and each designer's individual meat creation, sponsored by Chivas Regal and Nuvo
Franc Fernandez embraces his individuality as a designer and after the media frenzy generated from his creation of Lady Gaga's Meat Dress worn at the 2010 MTV VMA's, is encouraging local designers to experiment with meat and make their own rendition of his original work of art, making their own statements as designers.