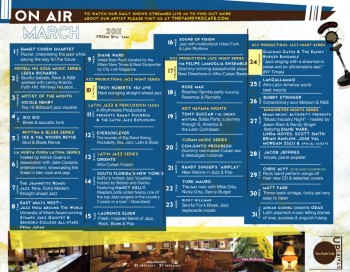 Van Dyke Cafe
March 2011
1- Emmet Cohen Quartet
Pianist, interpreting the past while paving the way for the future.
2- Novell Nu Soul Sunday Series
Leesa Richards
Soulful ballads, Rock & R&B. Recorded with Lenny Kravitz, Faith Hill, Whitney Houston…
3- Artist Of The Month
Nicole Henry
Top 10 Billboard Jazz Vocalist
4- Iko Iko
Blues and acoustic funk.
5- Rhythm & Blues Series
Ike & Val Woods Revue
Soul & Blues Revue
6- La Nueva Onda Latina Pop Music Series
Hosted by Adrian Guerra in association with Jake Cavazos entertainment, featuring the finest in latin rock and pop
7- The Jeannette Romeu Jazz Trio
Extra modern straight ahead Jazz
8- East Meets West
Jazz from around the world. University of Miami award-winning Stamps Jazz Quintet and Senzoku College All-Stars from Japan
9- Diane Ward
Voted best Rock vocalist by the Miami New Times and best songwriter by City Link Magazine
10- Kcc Production Jazz Night Series
Troy Roberts' Nu-Jive
Hard Swinging straight-ahead-Jazz
11- Latin Jazz & Percussion Series
A-Rhythmetic Production Presents Sammy Figueroa and The Latin Jazz Explosion
12- Eversoklever
The sounds of big band Swing Rockability, Ska, Jazz, Latin and Blues
13- Latin Jazz Series
Oriente
Afro-Cuban Fusion
14- South Florida's-New York's
SoFlo's hottest Jazz Vocalists hosted by Bebob and Gecko. Featuring Nancy Kelly. Readers polls voted Nancy one of the top Jazz singers in the country 2 years in a row! – Downbeat
15- Laurence Elder
Inspired blend of Jazz, Rock, Blues & Pop. Singer-songwriter-pianist
16- Sound Of Vision
JAzz with multicultural Urban Funk and Latin Rhythms
17- Kcc Production Jazz Night Series
Felipe Lamoglia's
Grammy-winning saxophonist plays New Directions in Afro-Cuban beats
18- Rose Max
Brazilian Samba party featuring Rosemax And Ramatis
19- Hot Havana Nights
Tony Succar y El Grupo Mixtura
Salsa Party, a journey through South America and the LAtin Caribbean
20- Cuban Music Series
Conjunto Progreso
Grammy nominated Cuban son and Descargas cubanas
21- Randy Singer's "airplay"
New visions in Jazz and Pop
22- Turk Mauro
The sax man with Mike Orta, Nicky Orta, Danny Burger
23- Ricky Williams
Soulful Funk Blues, Jazz keyboards vocals
24- Kcc Productions Jazz Nights Series
Giacomo Gates and the Danny Burger Ensemble
'Jazz singing with a showman's poise and a aficionado's zeal" Ny Times
25- Lanzallamas!
Afro-Latin-America world beat mezcla
26- Bobby Stringer
Extraordinary Soul Motown & R&B
27- Songwriter Nights Series
`Miami Music Authority Presents
"Music Industry Nght"- hosted by Jason Klein & Randy Singer featuring Diane Ward, Linda Noyes, Scott Smith, Brian Hanlon, Jose Val, Morgan Zulu and special guests
28- Jacob Jeffries
Vocals, piano-popster
29- Chris Alvy
CD release Party
Rock band perform songs off their new CD and selected covers
30- Matt Farr
Throw-back vintage, Funky yet very easy to listen
31- Adrean Guerra presents Odas
Latin Pop/Rock music telling stories of love, success and anguish fusing