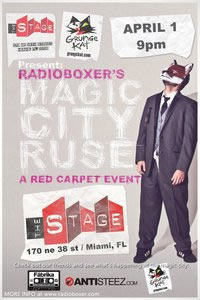 Magic City Ruse-Radioboxer's Album Release
04/01/11, 9:00 pm
The Stage
170 Ne 38 St
Facebook Page.
Tired of Britto being art king of Miami? Can't stand Space? We live in this city, it's ours. and it's time to take it back. Come as you are to our "Red Carpet Premier of MAGIC CITY RUSE" here is our press release, because we are too lazy to write two different things:
This is not an April's fools day hoax; Hialeah's darlings RADIOBOXER are taking over the magic city on April 1st with the release of their long awaited sophomore album "Magic City Ruse" at THE STAGE in Miami. The show will be a red carpet event featuring talent from all over the city, DJs and other everyday hidden treasures of the magic city. A Radioboxer show which the band promises will top anything they have ever done in the past. Their shows usually involve lights, lasers, fake blood, confetti, balloons, great songs and enough energy to power a small city for weeks, so this will indeed be a night not to be missed.
To mark the event and the completion of their newest work the band issued the following statement: "Magic City Ruse is about home. We live in times when we carry a constant feeling of Diaspora and a universal desire to find the perfect place; one that they can call our own. We believe HOME is not just where you live but what/who you love and the place in which you fight to leave your mark. We shape our home and our home talks about who we are. On "Magic City Ruse" we believe we captured exactly that feeling and we furthered our own sound which we affectionately named "Bi-Polar Pop". We experimented with more electronic and organic textures and tried to print an accurate picture of a live Radioboxer show. We feel very proud about the final result and extremely proud of being a Hialeah/Miami band."
"Let's take the Magic City Back"