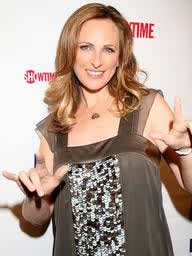 Marlee Matlin To Headline Winter Party Vip Reception
Saturday, March 5, beginning at 7:30 p.m
Bass Museum of Art
2100 Collins Avenue, Miami Beach
Winter Party Festival 2011: The Hottest Winter in the World
March 2 – 7, 2011
Academy Award winning actress Marlee Matlin will be the guest of honor at Winter Party Festival's VIP Cocktail Reception, Saturday, March 5, beginning at 7:30 p.m. at the Bass Museum of Art, 2100 Collins Avenue, Miami Beach. Joining Matlin will be Rea Carey, executive director of the National Gay and Lesbian Task Force, as well as Winter Party sponsors and VIPs. Tickets to the reception are also available to the public.
Matlin won the Academy Award for her performance in "Children of a Lesser God." At 21, she became the youngest recipient of the Best Actress Oscar and only one of four actresses to receive the honor for her film debut. In addition to the Oscar, Matlin received the Golden Globe Award for Best Actress in a Drama. In 2007, she joined the cast of Showtime Network's groundbreaking series "The L Word" for three seasons.
"We are thrilled to welcome Ms. Matlin as our special guest at this year's VIP Reception," said Chad Richter, Festival chairperson. "Not only is she an accomplished actress but also she's a successful author and noted humanitarian, donating her time for several important causes, including the American Red Cross, Easter Seals, and the Children Affected By AIDS Foundation. We look forward to hosting her at the reception."
Produced by the National Gay and Lesbian Task Force, Winter Party Festival raises funds to build power, take action and create change for the LGBT community. Two-thirds of the net proceeds generated from Winter Party Festival go to work locally through grants administered by the Miami Foundation (formerly the Dade Community Foundation), while the remaining one third goes to support The Task Force's efforts nationally. Since its inception in 1994, Winter Party Festival, along with The Task Force's annual Recognition Dinner, has raised more than $2.2 million for LGBT organizations in South Florida.
Tickets to the VIP Reception are $85 in advance and $100 at the door and include hors d'oeuvres courtesy of Vita by Bâoli in Miami Beach and cocktails courtesy of GREY GOOSE. Tickets for the VIP Reception as well as for other events are also available as part of discounted, multi-event passes. For more information, to purchase tickets and passes, or to check out the complete schedule of events, visit www.winterparty.com.
About The National Gay and Lesbian Task Force:
The mission of the National Gay and Lesbian Task Force is to build the grassroots power of the lesbian, gay, bisexual and transgender (LGBT) community. We do this by training activists, equipping state and local organizations with the skills needed to organize broad-based campaigns to defeat anti-LGBT referenda and advance pro-LGBT legislation, and building the organizational capacity of our movement. Our Policy Institute, the movement's premier think tank, provides research and policy analysis to support the struggle for complete equality and to counter right-wing lies. As part of a broader social justice movement, we work to create a nation that respects the diversity of human expression and identity and creates opportunity for all.
Winter Party Festival Sponsors as of February 23, 2011:
Alegria, Aqua Girl, Amazing Gay Travel, Ascension, Atlantic Broadband, Babalu, Barefoot Wines, Black & Blue, Blue Ball, Ca-Rio-Ca Wear, Cherry, ChrisRyanNYC, Circuit Festival, CiRKuit Dreams/RefleX, Clublezlife.com, Dale Stine Photography, Da Leo Trattoria, DNA Magazine, DoubleTree Surfcomber Hotel, EdgeontheNet.com, Elite Software, fab Magazine , Fiji, Fleet, Florida Agenda, Florida Department of Health, French Connection, Frontiers Magazine, Gancho Tampa, Gay Internet Radio Live, Gaypartix.com, GAYSTAR, GayTravel.com, Gayzette, Gir(L) Magazine, Give Me a Beat Productions, GreatPartyPics, Grey Goose, Grindr, Gourmet Station, Halloween New Orleans, Hell & Heaven, Hilton Wolman Events, HotSpots Magazine/Genre Latino, Icandee Events, IGLTA, Independence 2011, Instinct Magazine, Jason Snead Events, JOEMYGOD.com, JumpOnMarksList.com, Kiehls, Since 1851, Let's Go Play, La Lupa di Roma, Logo, LocalGayBusiness.com, Lord's South Beach, MackPlanet, Macy's, Manhunt.net, Mark Nelson Events, Mark Magazine, Masterbeat, Matinee New York/Florida, MRNY.com, MyGayToronto.com, MyLesbianRadio, National Beverage Corporation, Next Magazine, noiZe Magazine, NYC Pride, Office Depot, OMG Magazine, Orbitz, Outlook Columbus, Palace Bar, Pandora Events, Paul N Presents, Pizza Rustica, PopLife Designs, Printing Corporation of America, Purple Party, Route 7 Productions, Saint at Large/Black Party, Sand Blast, SeekWay Technologies, She Magazine, Showtime Networks, Sizzle Miami, SobeGayInfo.com, SobeSocialClub, Southern Decadence, Splash Days, Spris, Sun-Kissed Productions, Tom Bercu Presents, TownHouse Hotel, Twisted Life, Verve, XLsior Festival – Mykonos, WayOut Events, WeHo Party, Wet Platinum, White Party – Miami, White Party – Palm Springs, Wire Weekly, Wolfe Video