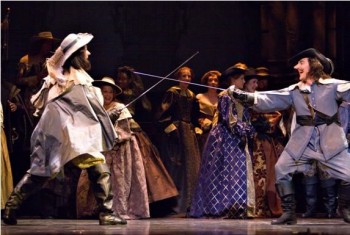 Florida Grand Opera — Cyrano
April 23, 2011, 7:00 pm
Adrienne Arsht Center for the Performing Arts
1300 Biscayne Boulevard
Miami, Florida 33132
www.fgo.org
The story of Cyrano de Bergerac has inspired many interpretations in the theater and on film. Edmond Rostand's famous play provided the inspiration for composer David DiChiera'a new opera, with a libretto in French by Bernard Uzan. Premiered in 2007, this very romantic opera has received standing ovations from audiences in Detroit and Philadelphia. Cyrano, a nobleman skilled in both sword and pen, has an unsightly large nose. Despite his desperate love for the beautiful Roxane, he agrees to help his younger rival, the handsome Christian, win her heart.
DiChiera wrote the roles of Cyrano and Roxane for baritone Marian Pop and soprano Leah Partridge, both of whom will reprise their critically-acclaimed world premiere performances at FGO. South Florida favorite, Leah Partridge, currently on the Metropolitan Opera roster, has given FGO audiences many memorable performances, including those in Lakmé and La sonnambula. Mark Flint, who orchestrated the opera and led the world premiere production, will conduct in his FGO debut.