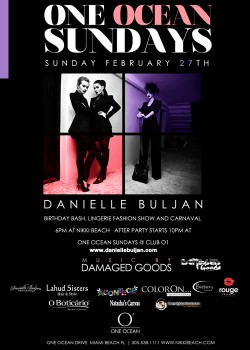 Danielle Buljan Birthday Bash, Lingerie fashion Show and Carnival at Club o1
February 27 From 10 Pm To 5 Am
Club01
One Ocean Drive
Miami Beach Florida 33139
305 538 1111
www.club01.com
ONE OCEAN SUNDAYS"
Danielle Buljan
Birthday Bash, Lingerie fashion Show and Carnival
… Music by: Damaged Goods
6pm at Nikki Beach – Fashion Show & Carnival
After party starts 10pm at One Ocean Sundays @ Club O1 – Upstairs
Join us om Sunday February 27th, 2011 from 10 pm till 5am at O1 Club ( Nikki Beach Upstairs ). One Ocean Sundays will provide you with amazing entertainment and Music by Damage Goods" He will bring you the best in Open Format/House.
Located in one of the most exclusive neighborhoods of Miami, Nikki Beach is redefining nightlife South of Fifth with its latest venture O-1 (One Ocean) transforming the upstairs club, formerly known as Club Nikki. The sensually appealing new look is decadent with dark burgundy and black along with rich damasque prints complemented by a gold ceiling. The signature champagne bar is adorned by a jewel-toned chandelier paired with chic Louis XIV armchairs. The extraordinary setting is an eclectic mix of 1930's bourgeois cabaret theater meets modern interior design, an ode to the Gilded Age.
Door open at 10pm
*Dress code enforced ! !
No sandals, no sneakers, no flip-flops, no hats, no shorts, no t-shirts.
For more information or to book your reservation email: VIP TABLES