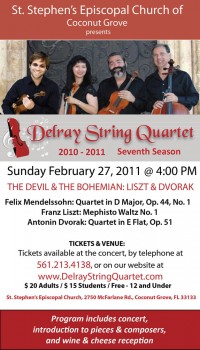 Classical Groove in the Grove –
Chamber Music @ St. Stephen's
St. Stephen's in the heart of Coconut Grove sponsors the third Chamber Music concert of the season featuring the Delray String Quartet.
After a standing room only appearance at The Colony Hotel in Delray, the Quartet is looking forward performing Sunday at St. Stephen's.
A wine, cheese, and Bacardi bar reception follows the concert.