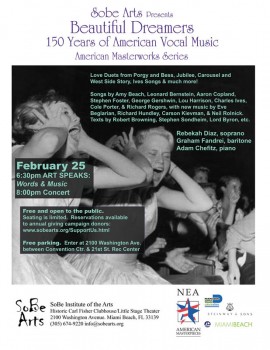 Friday, February 25 · 8:00pm – 10:00pm
SoBe Institute of the Arts
2100 Washington Avenue
Miami Beach, FL
SoBe Arts Presents
Beautiful Dreamers
150 Years of American Vocal Music
American Masterworks Series 2011
6:30pm Art Speaks – "Words & Music"
8:00pm Open Friday Concert: Beautiful Dreamers
Performers:
Rebekah Diaz, soprano
Graham Fandrei, baritone
Adam Chefitz, piano
Program: Love duets from Carousel, Porgy and Bess, West Side Story and Jubilee, Ives Songs and much more.
Songs by Amy Beach, Eve Beglarian, Leonard Bernstein, Aaron Copland, Stephen Foster, George Gershwin, Lou Harrison, Richard Hundley, Charles Ives, Carson Kievman, Cole Porter, Richard Rogers and Neil Rolnick. Based on texts by Robert Browning, Stephen Sondheim, Lord Byron and others.
The concert is free and open to the public, but seating is limited. Advanced seating reservations are available to donors (at any level) of "The Annual Giving Campaign for SoBe Arts."
Free Parking. Enter lot off Washington Avenue between the Miami Beach Convention Center and the 21st Street Recreation Center.