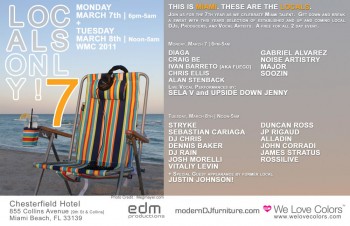 Locals Only! 7 – This is Miami. These are the Locals.
March 7th and 8th 2011, Mon: 6pm-5am, Tues: Noon-5am
Chesterfield Hotel
855 Collins Ave
Miami Beach, 33139
www.jamesstratus.com
southbeachgroup.com
Presented by James Stratus, EDM Productions, moderndjfurniture.com, WeLoveColors.com. Photo Credit goes to Megan Mayer.
This is Miami. These are the Locals. Join us for the 7th year as we celebrate Miami talent. Get down and break a sweat with this years selection of established and up and coming local DJs, Producers, and Vocal Artists. A free for all 2 day event.
Monday, March 7 | 6pm-5am:
Diaga,
Gabriel Alvarez,
Craig Be,
Noise Artistry,
Ivan Barreto (aka Fuego),
Major,
Chris Ellis,
Soozin,
Alan Stenback,
Live Vocal Performances by Sela V and Upside Down Jenny
Tuesday, March 8th | Noon-5am:
Stryke,
Duncan Ross,
Sebastian Cariaga,
JP Rigaud,
DJ Chris,
Alladin,
Dennis Baker,
John Corradi,
DJ Rain,
James Stratus,
Josh Morelli,
Rossilive,
Vitaliy Levin,
+ Special Guest appearance by former local Justin Johnson!