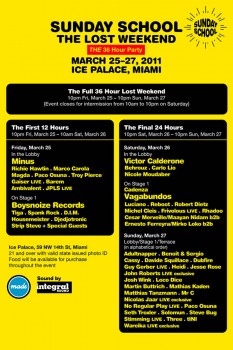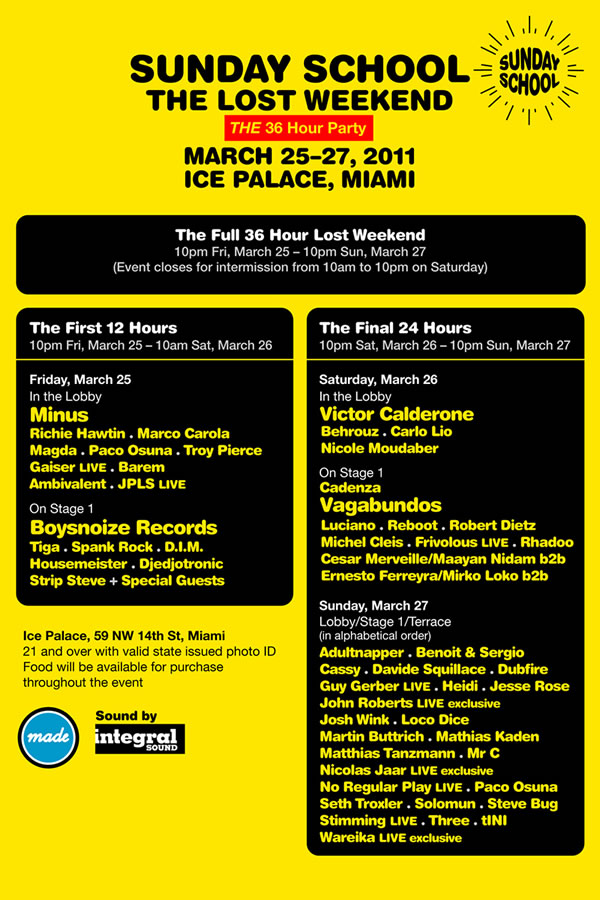 Sunday School: The Lost Weekend
10pm Friday, March 25 – 10pm Sunday, March 27
(Event closes for intermission from 10am to 10pm on Saturday)
Ice Palace
59 NW 14th Street
Miami, FL 33136
www.madeevent.com
Sunday School: The Lost Weekend in Miami is shaping up to be larger than life this year, with the Minus crew featuring Richie Hawtin, the Boysnoize Records gang with Tiga and special guests, and the Cadenza Vagabundos with Luciano previously announced. And now, the party is about to get even bigger with the addition of Guy Gerber, Heidi, Jesse Rose, John Roberts, Loco Dice, Paco Osuna, Rhadoo, Three, tINI and Wareika to 36 hours of madness and mayhem at Ice Palace from Friday, March 25th to Sunday, March 27th, 2011.
Taking Stage 1 on Saturday, March 26th, will be the Cadenza Vagabundos crew joined by Romania's electronic pioneer Rhadoo, along with Germany's resident rhythmic architect Reboot, house hypnotist Robert Dietz and more. Sunday, March 27th, sees the addition of Israeli techno ambassador Guy Gerber, BBC's dance music queen Heidi, Front Room Recordings and Made to Play boss Jesse Rose, deep house groove maker John Roberts playing a live and exclusive set, Germany's tech-house figure Loco Dice, Spanish techno conquistador Paco Osuna, Hallucination Limited head Three, Desolat darling tINI, and German three-piece electronic dance outfit Wareika playing a live and exclusive set. Previously announced artists for Sunday include young musical prodigy Nicolas Jaar playing a live exclusive set, eclectic electronic pioneer and Ovum owner Josh Wink, house and techno's unorthodox hero Seth Troxler, the return of Poker Flat Recordings tastemaker Steve Bug and many more. More artists to be announced for the entire weekend.
Sunday School: The Lost Weekend takes place 10pm Friday, March 25th until 10pm Sunday, March 27th, with a recess from 10am to 10pm on Saturday, March 26th.
Friday, March 25
In the Lobby
Minus
Richie Hawtin . Marco Carola . Magda
Paco Osuna . Troy Pierce . Gaiser LIVE
Barem . Ambivalent . JPLS LIVE
On Stage 1
Boysnoize Records
Tiga . Spank Rock . D.I.M.
Housemeister . Djedjotronic
Strip Steve + Special Guests
Saturday, March 26
In the Lobby
Victor Calderone
Behrouz . Carlo Lio . Nicole Moudaber
On Stage 1
Cadenza
Vagabundos
Luciano . Reboot . Robert Dietz
Michel Cleis . Frivolous LIVE . Rhadoo
Cesar Merveille/ Maayan Nidam b2b
Ernesto Ferreyra/Mirko Loko b2b
Sunday, March 27
Lobby/Stage 1/Terrace
(in alphabetical order)
Adultnapper . Benoit & Sergio . Cassy
Davide Squillace . Dubfire
Guy Gerber LIVE . Heidi . Jesse Rose
John Roberts LIVE exclusive . Josh Wink
Loco Dice . Martin Buttrich
Mathias Kaden . Matthias Tanzmann
Mr C . Nicolas Jaar LIVE exclusive
No Regular Play LIVE . Paco Osuna
Seth Troxler . Solomun . Steve Bug
Stimming LIVE . Three . tINI
Wareika LIVE exclusive
Thank you for using Soul Of Miami!