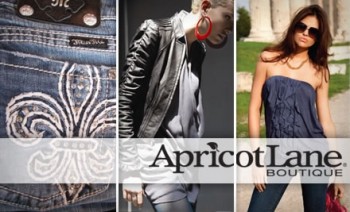 Apricot Lane "Give Back" Sale Event
Benefiting Peace Love International- Feed Haiti With Corn
Saturday, February 26, 2011, from 6-9pm
The Village of Gulfstream Park location
501 South Federal Highway
Hallandale Beach, FL 33009
Apricot Lane is not only in the spotlight this month with their celebrity inspired branded apparel, affordable fashion jewelry, handbags and accessories; Apricot Lane's Hallandale Beach location, is also sharing their space with Peace Love International- Feed Haiti With Corn, an organization that created a project aiming to feed, educate and promote agriculture to mostly children in Haiti.
"Feed Haiti with corn" consist of gathering the necessary items to make a very sustainable corn based meal called "akasan", all the while teaching and giving them the tools to grow their own corn and prepare a variety of corn based meals.
For this purpose Apricot Lane will be collecting: corn flour, canned/powdered milk, brown sugar, and corn seeds.
Saturday, February 26, 2011, from 6-9pm, this unique and successful franchise will urge guest to support by donating the items listed.
For all of the supporters, Apricot Lane will have big sales from 30-70% off the entire store. Special Sale On Miss Me Jeans!
Guests will also receive complimentary wine and delicious mini cupcakes by 'C & L Custom Cakes'. Also, enjoy a fashion show featuring Apricot Lane's quality, stylish brand-name clothing and fun fashion accessories at 7:30pm!