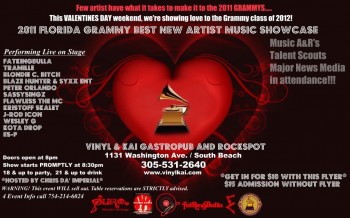 Sunday, February 13th, 8pm
Vinyl & Kai Gastropub and Rockspot
www.vinylkai.com
Aaah, Florida….the sunshine state. Home to an endless array of musical talent as vibrant, hot and colorful as the tropical birds that reside here.
On Sunday, February 13th, we cordially invite you to South Beach to witness the birth of a STAR….well, actually…many stars!
…
The Human Being Talent Agency, in conjunction with Vinyl & Kai Gastropub and Rockspot, music A&R's and media from all over the state will be celebrating those nominated for the 2011 Grammys, while shining the spotlight on the potential Grammy class of 2012.
Among the featured artist will be R&B/Hip Hop sensation: TraMille, Internationally known Latin Rock/Funk band: FatKingBulla, Underground Hip Hop star: Flawless the MC, Neo Soul songstress: SassySingz, Internationally known Jazz/Soul virtuoso: Kristoff Skalet, Acoustic Pop artist : Peter Orlando, Hip Hop Coalition: Syxx Ent, R&B singer: J-Rod Icon, Hip Hop/Reggae artist ES-P, Kota Drop and more!
There will also be pre-Valentines Day erotic poetry interludes presented by Blondie C., Wesley G and Chris Da'Imperial and a few "LOVE-ly" surprises…
Please note that this event is expected to Sell Out. Table reservations are Strictly advised. For reservations, bottle service info and advanced ticket info please call or text 754-214-6024 with the ammount of people in your party.