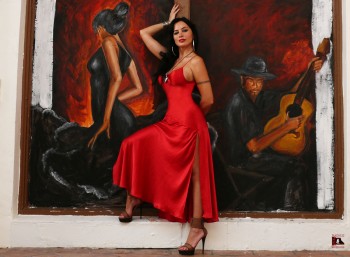 February 14th, Show starts at 8 pm.
Mediterraneo Brickell
inside Jade Residences
1331 Brickell Bay Drive
Miami, FL.
Reservations are highly recommended. Phone 305-200-5028.
Chanteuse Montserrat Franco will perform on Valentine's Day with jazz standards, chansons, bossas, boleros and all time romantic classics with Pianist Antulio Mora at Mediterraneo Brickell on February 14th.
What a better place to surprise your Valentine than the chic Mediterranean setting designed by artist Elger Aragundi and inspiring cooking styles of the Mediterranean shores which reflects the beauty and subtlety of their origins conceptualized by Chef Thierry Matamoros all topped with a romantic live music just for the two of you…
On Valentine's Day you can choose the exquisite Menu a la carte or the special at $59.95 per person including a bottle of wine or champagne if is a couple dining. The Special includes the Entrée : Ceviche, tapas, sushi and cau-sushi; the Main Course: Tenderloin and butter pouched lobster tail served with pasta a la routta and the Trio of Desserts: Mascarpone fruit tart, chocolate mousse and guava cheese cake.
(Credit for Photo attached: Mike Vetty)