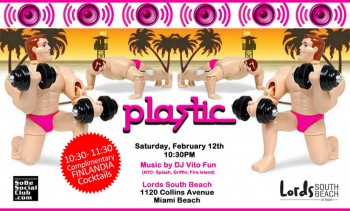 Lords South Beach
1120 Collins Avenue
Miami Beach, FL 33139.
Lords South Beach, the first gay boutique hotel brand in the U.S., launches two new events this weekend! On Friday, February 11, from 5 p.m. to 8 p.m., Lords will introduce their new weekly happy hour, "Bottoms Up," to all hotel guests and those who love a stiff, but inexpensive cocktail after a long week at work. Everyone will enjoy $4 drink promotions and tantalizing small plate specials from the hotel's restaurant, Cha Cha Rooster. A DJ will get guests ready for the weekend with vintage vinyl tunes, 80s hits and Motown classics.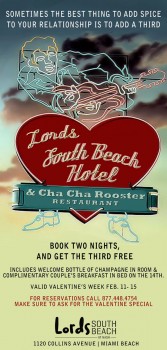 On Saturday, February 12, Lords and the ever-popular Edison Farrow's SoBe Social Club will launch "Plastic," a new monthly soirée celebrating the beauty of South Beach culture. Guests are invited to enjoy complimentary Finlandia vodka cocktails from 10:30 p.m. to 11:30 p.m. and dance the night away to the beats of NYC DJ Vito Fun (Splash, Griffin, Fire Island). Plastic begins at 10:30 p.m. inside of Cha Cha Rooster.
Guests who don't want the fun to end are encouraged to take advantage of Lords' Valentine's Day hotel package starting on Feb. 11. Each guest who books two nights will receive a third night for free. This offer also includes a welcome bottle of champagne and complimentary couple's breakfast in bed. For reservations, please call 877.448.4754 or visit www.lordssouthbeach.com.