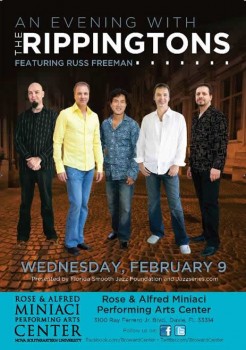 An Evening With The RIPPINGTONS
Wednesday, February 9, 2011 @ 8pm
Rose & Alfred Miniaci Performing Arts Center
Nova Southeastern University
3100 Ray Ferrero, Jr Blvd
Davie FL 33314
Additional Information & Tickets
Or call (954)462-0222
The Florida Smooth Jazz Foundation Presents International Smooth Jazz Recording Group "The Rippingtons" featuring Russ Freeman!
Grammy-nominated Russ Freeman alongside drummer Dave Karasony, keyboardist Bill Heller, bassist Rico Belled and saxophonist Jeff Kashiwa are the multi-talented musicians who make up the Latin flavored smooth jazz fusion sounds of "The Rippingtons".
Info via: Jazz & Blues Florida www.JazzBluesFlorida.com
Thank you for using Soul Of Miami!