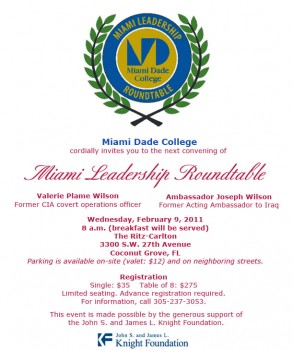 MDC's Miami Leadership Roundtable presents Valerie Plame Wilson and Joseph Wilson
Wednesday, Feb. 9, 8:00 AM – 10:00 AM
The Ritz-Carlton Coconut Grove
3300 S.W. 27th Avenue
(Please note this is a new venue.)
COST: The price for a single ticket is $35 and a table of eight is $275. Seating is limited.
Online registration is available at http://mdcalumni.com/netcommunity/Plame-Wilson.
Miami Dade College (MDC) will present its renowned Miami Leadership Roundtable with a couple that took on a former United States president's administration and won. Now, MDC students and guests will be able to attend a conversation with Former CIA covert operations officer, Valerie Plame Wilson, and former Acting Ambassador to Iraq, Ambassador Joseph Wilson, on Wednesday,February 9, at 8 a.m. at The Ritz-Carlton Coconut Grove. (Please note this is a new venue.)
Plame worked to protect America's national security and prevent the proliferation of weapons of mass destruction in her role as a covert CIA operations officer. Without warning, in 2003 she found herself at the heart of a political firestorm when senior White House and State Department officials revealed her secret status to several national journalists. A subsequent investigation exposed what some call an act of treason. Plame is the author of Fair Game: My Life as a Spy, MyBetrayal by the White House. She is now a public advocate and respected authority on issues of national security and counter-proliferation.
Ambassador Wilson's historic career in international relations spans more than three decades with service under five U.S. presidents. He was hailed "a true American hero" by President George H.W. Bush for his efforts to free more than 100 American hostages in Iraq prior to the first Gulf War. Under direction from the Bush Administration in 2002, he traveled to Niger to investigate reports that Saddam Hussein had obtained uranium yellowcake for Iraq's nuclear program. He reported there was no truth to the claims, and his findings ignited a high-profile controversy. In 2004, Wilson chronicled his diplomatic career and battle with the Bush administration in his bestselling book, The Politics of Truth.
The Plame-Wilson ordeal stirred Hollywood filmmakers to create Fair Game, a major motion picture starring Sean Penn and Naomi Watts that is based on the CIA leak controversy.
Throughout the years, MDC's renowned Miami Leadership Roundtable speaker series has included former U.S. presidents Bill Clinton, Jimmy Carter and Gerald Ford; former vice-president Al Gore; former first-lady Barbara Bush; former Soviet President Mikhail Gorbachev; former Russian Prime Minister, the late Yegor Gaidar; former Polish President and Nobel Prize winner Lech Walesa; Spanish Prime Minister Jose Maria Aznar; Dominican President Dr. Leonel Fernandez; former Colombian President Andres Pastrana; former first lady of Egypt Jehan Sadat; interim Haitian Prime Minister Gerard La Tortue; and Turkish Education Minister Huseyin Celik. Additional notable guests who have also addressed the Roundtable include film director Oliver Stone; journalists Dan Rather, the late David Brinkley, Linda Elberbee and the late Ed Bradley; famed envoy for the Church of England and author Terry Waite, author Tom Wolfe; and many, many more.