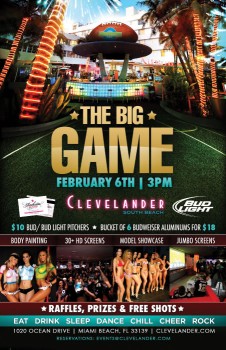 February 6, 3pm
Clevelander
1020 Ocean Drive
Miami Beach, Fl 33139
Are you ready for some football? The Clevelander is ready to cater to all the die-hard football fans with the biggest Super Bowl party on Ocean Drive! The big game will be featured on thirty high-definition television screens across property and big jumbo screen on the historic Pool + Patio. Coupled with amazing giveaways, $10 Budweiser & Bud Light Pitchers, a sexy model showcase and exciting football themed entertainment, The Clevelander promises to be a unique destination for all your Super Bowl needs.
Thank you for using Soul Of Miami!