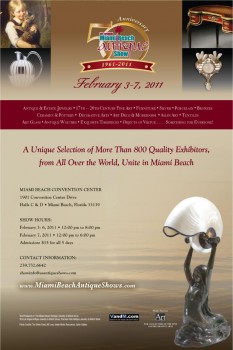 February 3-7, 2011
Thursday – Sunday 12:00pm – 8:00pm
Monday 12:00pm – 6:00pm
Miami Beach Convention Center
Halls C, & D
1901 Convention Center Drive
Miami Beach, FL 33139
www.miamibeachantiqueshows.com
$15.00 (ticket valid for all 5 days)
Appraisal Day: Saturday, February 5th, 2011
Pearl Giveaway: Pearl Promotion Booth, every hour on the hour
The Original Miami Beach Antique Show has grown into the largest indoor antique show in the world to include more than 800 national and international dealers. The show offers buyers the biggest selection of rare and unique items from all over the world.
The 2011 Original Miami Beach Antique Show, features dealers from 22 antique rich countries. Some of the museum quality pieces to be exhibited here include statues by Auguste Rodin and Emile Gaugin, Japanese Satsuma Kinkozan, and many more rare and exquisite items.
The 2011 Original Miami Beach Antique Show kicks off its 50th with a special opening ceremony and ribbon cutting event at the Miami Beach Convention Center. Celebrations will begin at 11:00am with a few words from US Antique Shows' event organizers and local Miami Beach officials, followed by a champagne toast. "The
Original Miami Beach Antique Show has been a treat for residents and visitors alike for 50 years," said Miami Beach Mayor Matti Bower. "The quality of the exhibitors and participants makes this show welcome to our city year after year – and hopefully for another 50!"
"There are many preparations under way to celebrate 50 successful years of the Original Miami Beach Antique Show. We know the public will love some of the things we have in store for them", stated Andrea Canady, fair director."This year will the best show yet with the most varied collections of antiques ever showcased, sure to please our growing crowd of attendees and dealers."
Show hours are from 12:00 p.m. to 8:00 p.m. from February 3-6th and 12:00 p.m. to 6 p.m. on February 7th. Admission fee is only $15 to attend all five days of the show. There will be an Appraisal Day on Saturday, February 6th where attendee's items will be appraised for free.